<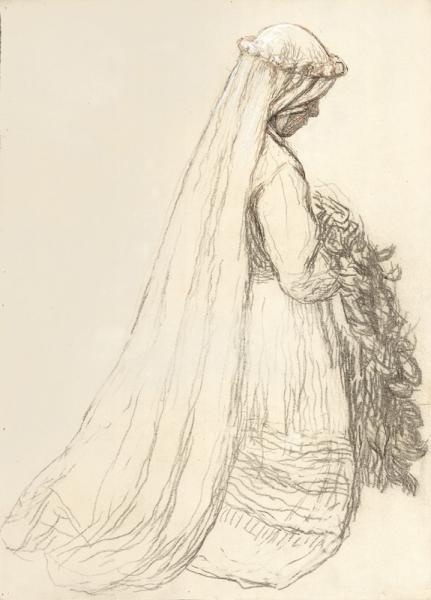 Oeuvre indisponible à la vente, elle a été proposée dans le cadre de l'exposition "La Biennale Paris 2021"
Communiante agenouillée tenant une couronne
Grease pencil and white chalk highlights on paper.
71.20 x 51.50 cm
Provenance:
Artist's studio
Private collection, Paris
Study for the triptych "Monument aux morts" of Cahors.
Notice of inclusion in the archives for the elaboration of the catalog raisonné of Henri Martin by Marie-Anne Destrebecq-Martin.
This drawing of a kneeling nun is a study for one of the figures in a large triptych, executed in 1932 and originally intended to occupy the arcades of the Cahors Town Hall (but which was never actually installed).
Three canvases measuring nearly four meters by three had been made by the artist for this purpose. The ensemble is now preserved in the Henri Martin Museum in Cahors.
In the central panel, women communicants lay wreaths at the feet of a statue, while in the side panels, a crowd of people pays tribute to the dead of the First World War. Among the anonymous people gathered for this ceremony, we recognize friends and relatives of the painter: his son Jacques Martin-Ferrières, the artist Georges Desvallières, Henri and Simone Le Sidaner, René Lalou, Henri Martin himself and his wife...
Our drawing, representing the kneeling communion girl in the foreground of the central panel, is a very close version of the motif chosen for the final composition.

See the triptych of Henri Martin Monument aux morts de Cahors on the site of the Museums of Occitania.