Alexis Pentcheff Fine Art
Galerie Alexis Pentcheff specialises in modern painting from the second half of the 19th Century to the first half of the 20th Century, including impressionism, post-impressionism and modern art, with a focus on the most talented artists who worked in Provence. However, the gallery frequently presents French and international artists beyond this geography whose work may be relevant to its artistic programme. Since its opening, the art gallery has organised more than thirty exhibitions - painting, sculpture and design - and has participated in several international art fairs such as Brafa in Brussels.
On this website, you will be able to access our catalogue, read about our forthcoming exhibitions but also learn more about our past events and order our printed catalogues on our online bookshop. The gallery is always thrilled to answer any request you may have regarding art appraisal or a painting you wish to buy or sell. Please do not hesitate to contact us by email or telephone and to subscribe to our newsletter to receive our invitations to our upcoming events.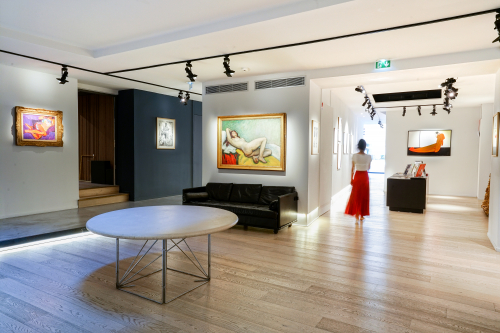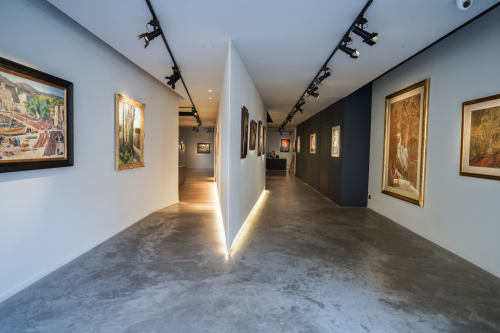 Available artworks
The gallery regularly presents works by impressionist, post-impressionist and modern painters. Attached to Provence, she specializes in artists who have worked on the Mediterranean coasts. Influenced by the singular light and the intense heat of the region, the masters of modernity meet there and form an unprecedented artistic emulation that the gallery tries to transcribe in thematic exhibitions and cutting-edge selections.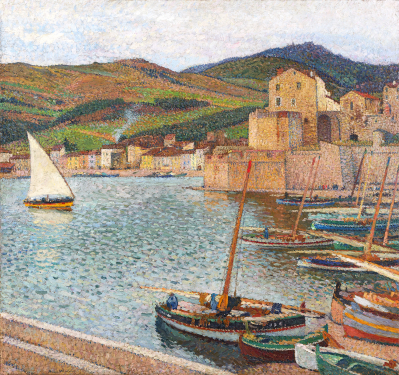 Since its opening, the gallery has specialised in 19th and 20th-century Provençal painting. Taking Émile Loubon and his resolutely modern teaching as a starting point, the gallery aims to highlight the artistic influence of Provence with his most illustrious students, including Raphaël Ponson (1835 - 1904), Paul Guiguou (1834 - 1971), Jean-Baptiste Olive (1848 - 1936), or Joseph Garibaldi (1863 - 1941). Following this approach, the gallery's reach extends to the development of modernity in the region with the work of famous Marseilles figures, sometimes marginal ones, with René Seyssaud (1867 - 1952), Auguste Chabaud (1882 - 1955), Alfred Lombard (1884 - 1973), Pierre Girieud (1876 - 1948), Augustin Carrera (1878 - 1952), Louis-Mathieu Verdilhan (1875 - 1928) and Pierre Ambrogiani (1907 - 1985).
At the end of the 19th century, the history of the city of Marseille and its colonial past as a place of exchange and a strategic travelling point towards the East, led many painters to express a deep fascination for new lands. With Jospeh Inguimberty, then André Maire, and Paul Jouve, the gallery, through new exhibitions and publications seeks to take a fresh look at these travelling painters whose works, influenced by multiple peregrinations in Asia, India and Africa, have radically changed our Western perception.
During thematic temporary exhibitions and "hors les murs" projects, the gallery also presents works for sale from post-war and contemporary artists, forming a relevant dialogue between different times and pictorial styles. Always seeking artistic coherence, it features French and international artists whose discourse seems to support its voice and artistic selections.
Highly implied in René Gruau's international representation, Galerie Alexis Pentcheff acquired the artist's studio collection in 2018, gathering today the largest collection of original works in the world. The gallery aims to present all aspects of his work through diverse projects, including a retrospective held at the gallery in 2016 and international events showcasing gouaches, inks, and pencil on paper, in order to illustrate the richness and influence of his artistic production.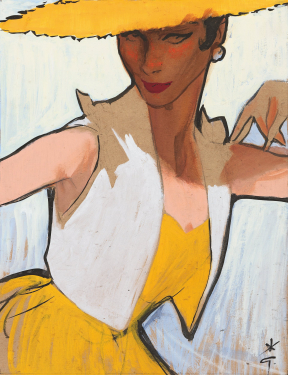 Publications
jacques martin-ferrières
intimité et horizons
Marie-Anne Destrebecq-Martin, Sophie Maket et Giulia Pentcheff
| | |
| --- | --- |
| Publication year | 2020 |
| Number of pages | 118 |
| Format | 21 x 21 cm |
| ISBN | 979-10-94462-10-2 |
Fils du célèbre peintre Henri Martin, Jacques se détache de cette filiation tout au long de sa carrière, quoiqu'il admette sans peine l'influence prégnante de son père. Martin-Ferrières est un artiste en quête de sincérité, immuablement guidé par une vision globale de l'homme et une sensibilité touchante à la nature. Il s'éloigne volontairement des modes artistiques et de leurs courants révolutionnaires qu'il considère vulgaires et éphémères.
Explorateur de territoires frémissants, Martin-Ferrières est avide de découvertes qu'il retranscrit en expressions universelles. Dans tous ses sujets, le peintre exerce ses pinceaux à un enthousiasme contagieux. Sur ses toiles aux compositions rigoureusement calibrées, les couleurs vivent, habitées par l'évocation de personnages dont le cerne souligne la présence, mais l'artiste produit également avec maîtrise un corpus de natures mortes et de paysages dépeuplés empreints d'une douce nostalgie impatiente de mouvements.
"A notre époque de hâte, de précipitation, on n'a plus le temps de regarder assez longuement une oeuvre d'art pour en sentir toute la valeur profonde. D'où cette vogue de l'esquisse, le coup de poing en pleine figure et l'indifférence presque générale, voire le mépris pour les délicatesses de couleur, et enfin tout ce qui découle de la pure sensibilité" - Jacques Martin-Ferrières
For any request for expertise or estimate of your works of art, please send us by e-mail photographs of good quality of your works (face and back) and communicate us the information in your possession (indications of format, provenance...).