From March 11, 2022
to April 15, 2022
From March 11 to April 15, 2022, the gallery will host an exceptional exhibition devoted to the paintings of Dora Maar (1907-1997).
A young and talented photographer who frequented the Surrealist circle in the early 1930s, Dora Maar seduced Picasso and lived an intense passion with him from their meeting in 1936 until the end of the war.
At the side of the master, she will privilege her pictorial practice to photography, gradually abandoning his Rolleiflex to take the brushes.
The breakup of the relationship that occurred (Picasso had begun a relationship with the young Francoise Gilot) augured difficult years for the woman who had thrown herself body and soul into this relationship. When Picasso abandons her, Dora Maar is so fragile that she will be institutionalized.
She was then followed for a long time by the famous Lacan.
She gradually slipped into a resolute isolation and an uncompromising faith, dividing her time between her Parisian apartment and her house in Ménerbes, which came from Picasso. She did not abandon her painting practice, however, and managed to follow her own path, inspired by the poetry of nature, completely free of the influence of the Minotaur.
However, the artist keeps her work to herself. She does not exhibit her work and does not make it known. It is only at the time of his death, with the treasure of memories of Picasso jealously preserved, that lovers discover the paintings of Dora Maar.
But it is then mainly her paintings that are presented at the time of the large auctions of his estate that took place in 1998 and 1999.
The rest, her works on paper in particular, her notebooks of drawings, are sold at the tail end of sales, in a few closed boxes that reserve their effect.
Luckily, one of the buyers of these mysterious boxes, a woman (which is not insignificant), kept the whole set of works intact for twenty years. This is how this exhibition at the gallery came about.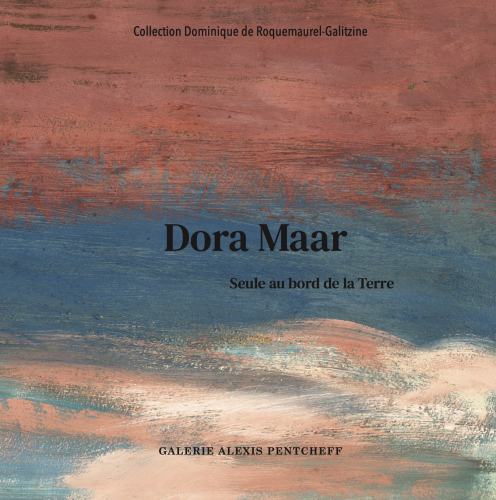 dora maar
seule au bord de la terre
Giulia Pentcheff
| | |
| --- | --- |
| Publication year | 2022 |
| Number of pages | 144 |
| Format | 21 x 21 cm |
| ISBN | 9791094462119 |