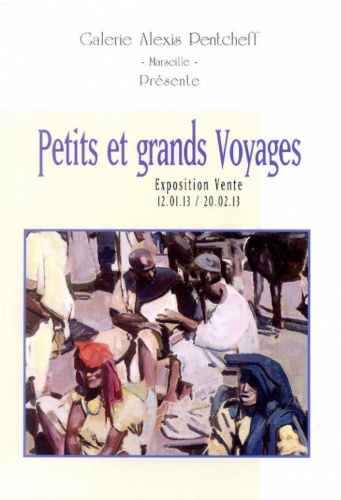 Petits et grands voyages
French artists around the world
Giulia Pentcheff
| | |
| --- | --- |
| Publication year | 2013 |
| Number of pages | 80 |
| Format | 21 x 30 cm |
| ISBN | 9782954035826 |
This exhibition and its catalog were devoted to works of French artists who found their inspiration during travels. It was sometimes not necessary, for some, to go very far: Spain, Venice and North Africa are thus located at a reasonable distance from Provence, including for a traveler of the turn of the century ... Asia, on the other hand, is a much more distant and exotic destination, just like Madagascar. An adventure.
Marseille is most of the time the gateway to these worlds, hence the interest of the Marseille gallery for this theme.

Among the selected painters: André Maire, Gustave Lino, Joseph Inguimberty, Jos-Henri Ponchin, Georges Rochegrosse, Jacques Majorelle, Antoine Gadan, André Hambourg, Félix Ziem, Clément Calderon.