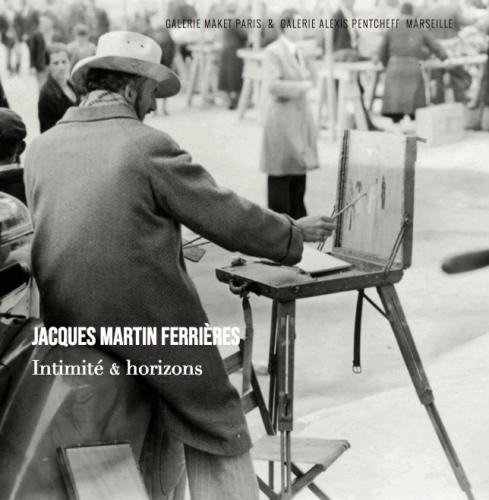 Jacques Martin-Ferrières
Intimités & Horizons
Giulia Pentcheff & Sophie Maket
| | |
| --- | --- |
| Publication year | 2020 |
| Number of pages | 128 |
| Format | 21 x 21 cm |
| ISBN | 979-10-94462-10-2 |
Galerie Alexis Pentcheff and Galerie Maket were pleased to present a retrospective dedicated to the work of Jacques Martin-Ferrières. On this occasion, nearly one hundred and twenty paintings and sixty gouaches were gathered between Paris and Marseilles.
From Collioure to Yugoslavia, through Marseille, Venice, Paris, and the United States, Jacques Martin-Ferrières revives our curiosity as visitors with his human crowds, appearing as nostalgic visions of universal folklore.
Son of the famous painter Henri Martin, Jacques tried to break away from this filiation throughout his career, although he admits his father's considerable influence.
Permanently seeking authenticity in his work, Martin-Ferrières is an artist immutably guided by a global vision of mankind and a subtle sensitivity to nature. He voluntarily distances himself from artistic fashions and revolutionary movements that he considers vulgar and ephemeral. Risking to appear conservative, his painting displays a real search for truth. An explorer of vibrant territories, Martin-Ferrières is eager for discoveries that he trans- lates into universal visual expressions.
The painter exults in the observation of new horizons and yet lingers over depicting the flavor of intimacy, the delicacy of a family scene, or still life. In all his subjects, the painter exercises his brushes to a contagious enthusiasm. This two-part event took a new look at a discreet work on the art market and suggests a thematic approach.

First, still lifes and Parisian views of the early days, influenced by impressionist principles; then Italy, and with it evidence of the first voyages; finally, the consecration at the Salon, at the Georges Petit Gallery and the Charpentier Gallery, where many pictorial expressions of immortal journeys were brought together including the folklore of Yugoslavia, the intense heat of Spain, the rosy light of Greece and Venice of course, the city which, according to the artist, remains the most joyful to paint. However, it is in Paris, in the fury of the Trente Glorieuses, that Martin-Ferrières precisely captures the powerful energy of modern life.