Publication Antiques Trade Gazette (UK)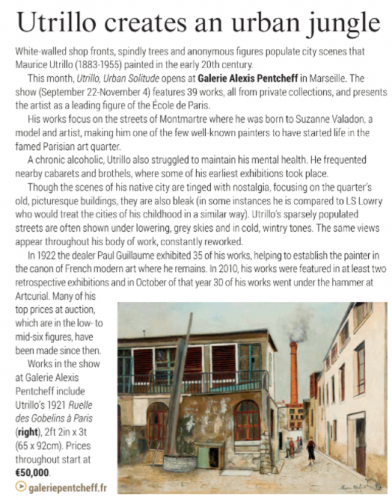 Antiques Trade Gazette (UK)
" UTRILLO creates an urban jungle " "White-walled shop fronts, spindly trees and anonymous figures populate city scenes that Maurice Utrillo (1883-1955) painted in the early 20th century."
On the occasion of "Maurice Utrillo, Solitude Urbaine", Frances Allit returns to Utrillo's unique work and tells us about the central position of the artist in the art of the 20th century for Antiques Trade Gazette.
The "urban jungle" painted by Maurice Utrillo is marked by great fragility, it is populated with withered trees, anonymous figures and is characterized by cold, wintery colors.
Online article - access reserved for Antiques Trade Gazette subscribers