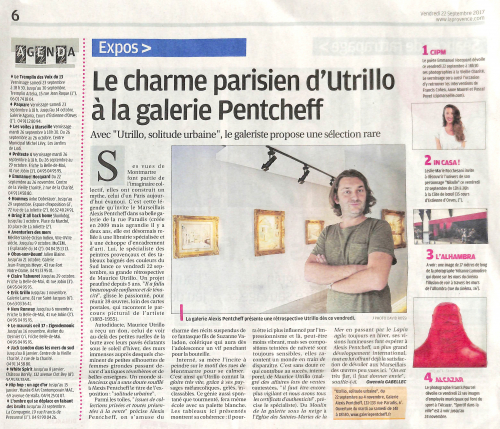 Expos
The gallery had the pleasure of welcoming Gwenola Gabellec for the exhibition "Maurice Utrillo, Solitude Urbaine". In this beautiful article published in La Provence on September 22, she talks about her impressions of Utrillo's work, the works presented and the hanging.
"His views of Montmartre are part of the collective imagination, they have built a myth, that of a Paris today vanished. It is this legend that the Marseillais Alexis Pentcheff invites in his beautiful gallery in the rue Paradis ( created in 2009 but enlarged two years ago, it is now connected to a specialized bookstore and an art framing stall).
Him, the specialist of Provençal painters and paintings bathed in the colors of the South is launching this Friday, September 22, his great retrospective of Maurice Utrillo. "