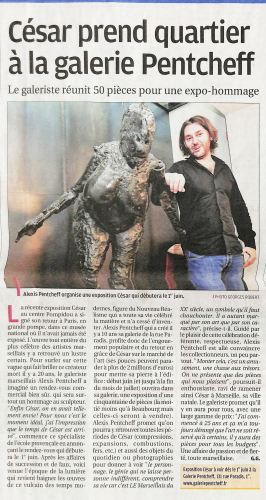 La Provence
Find the exhibition "César | marseillais" from June 1 to July 12, 2018 at the Galerie Alexis Pentcheff.
During this retrospective, more than fifty original pieces will be brought together in the gallery alongside unpublished photographs and historical documents to present the work of one of the greatest sculptors of the 20th century. Visitors will thus be immersed in the fascinating universe of a Marseille artist carried by a lightning passion for the material.
From his Compressions, to his Expansions, through his Fers Soudés and his Empreintes Humaines, the work of César (1921 - 1998), of infinite richness, is built around incessant contradictions. Inspired and inspiring, this dialectic, the common thread of a life of artistic experimentation, will be highlighted, in Marseille and on the occasion of the 20th anniversary of the artist's death, by pieces from each series and from all the eras having guided the radical gestures of the plastic surgeon.
A big thank you to Gwenola Gabellec for this very nice article which appeared in La Provence on April 26, exclusively.
Read the article online: here
Visit the exhibition online: here