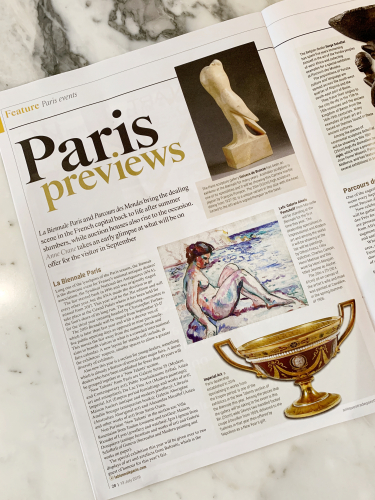 Biennale Paris
Exhibition & Press Kit
To read in Antiques Trade Gazette: Galerie Alexis Pentcheff will present a fawn canvas by Henri Manguin on its stand at La Biennale Paris.
In 1906, it was Cavalière's landscapes that gave a new impetus to Henri Manguin's palette, revealing his fawn strength and his qualities as a colourist. If the painter had fallen under the spell of the Mediterranean light in Saint-Tropez in 1904 leading him to an uncompromising Fauvism, he produced in Cavalière a body of work of rare confidence and serenity. Jeanne, his wife, is also his muse, his favorite model. In these works with tawny accents, she evolves in a bucolic, dazzling environment, her naked body cradled by the intense heat of the south of France.
Jeanne au rocher is a completely new testimony to these few months spent in the service of color and resolutely new plastic research. Exhibited in Paris, Albi, Nice or even in Switzerland, this major canvas from Henri Manguin's Fauve period also reveals all the keys to his work as a painter: chromatic accords explode in a frenzy of pure tones, the composition of this scene of life discloses a sweet intimacy delivered in a loving conjugal language animated by Jeanne and nature.
1906 is also a pivotal year in the painter's career; Ambroise Vollard, under the spell of his work of remarkable harmony, bought him one hundred and forty-two paintings. At the age of thirty-one, Manguin was enjoying the beginnings of unquestionable success.
Punctuated by the southern light dear to the heart of the Alexis Pentcheff Gallery, established in Marseille since 2009, this work is part of an artistic emulation that was unheard of at the start of the 20th century, influenced by the Mediterranean coasts, the cradle of modern art. Attached to its artists, from Provence and elsewhere, the gallery thus wishes to present a sharp selection around modernity while emphasizing the essential role of the region in the development of pictorial revolutions.
"The Midi was, I believe, a good teaching and [I] come back if not happy with myself at least with an impression of great beauty and an understanding of many things hitherto unknown."
Henri Manguin
Useful information :
The Paris Biennale
From September 13 to 17, 2019 Opening on September
12 Big palace Winston Churchill Avenue 75008 Paris - France