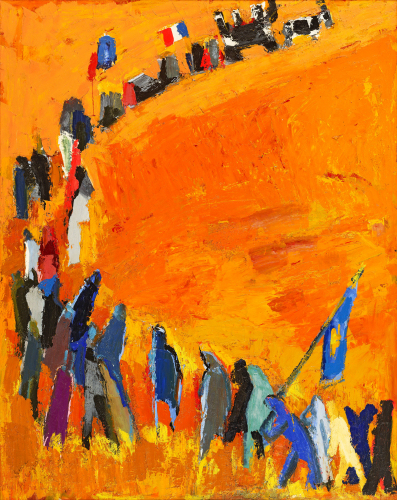 Exposition Pierre AMBROGIANI à Sisteron
Pierre Ambrogiani, the intensity of color
From September 14 to October 26, 2019, the Gallo-Roman Museum in the city of Sisteron presents an exhibition entirely dedicated to Pierre Ambrogiani located in the Espace d'Ornano. With around twenty works by the painter, this event looks back on the atypical career of one of the great masters of Provençal painting.
Animated by the generosity of the material and the intensity of pure color, the expressionist pictorial production of Pierre Ambrogiani is extremely rich. Provençal landscapes, still lifes, reapers, toreadors but also female nudes are all subject to the violence of its uncompromising contrasts.

A famous figure from Marseille, Ambrogiani during his lifetime already seduced critics and collectors. The city of Marseille paid homage to him in 1973 with a beautiful retrospective organized at the Musée de la Vieille Charité. Today it is the city of Sisteron which wishes to highlight the singularity and the essential role of the painter in Provençal modernity.
Go to the Pierre Ambrogiani exhibition in Sisteron
Gallo Roman Museum of Sisteron
Ornano space
8 rue Saunerie
04200 Sisteron
Phone
04 92 61 54 50
Opening period
From 09/14 to 10/26/2019
Open Tuesday, Wednesday, Thursday, Friday and Saturday from 10 a.m. to 12 p.m. and from 2 p.m. to 6 p.m.
Rate
Free access.