<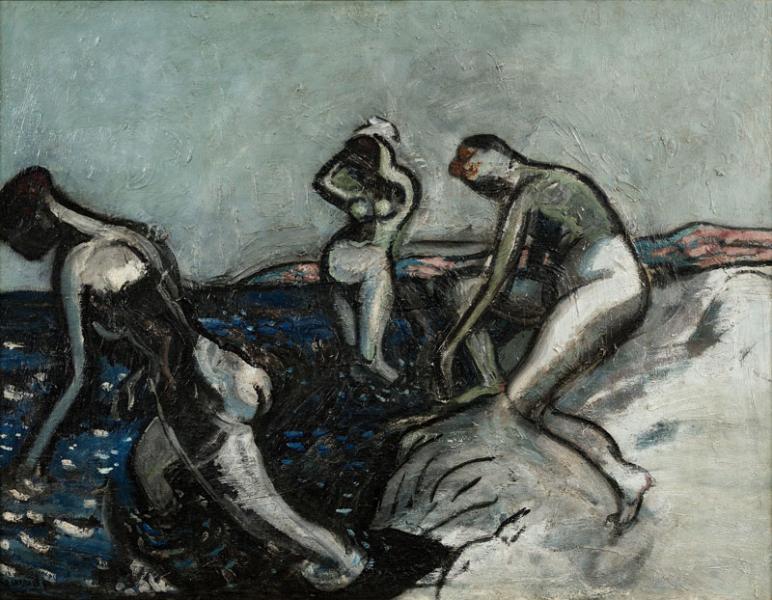 Les baigneuses, vers 1911
Oil on canvas, signed lower left.
90 x 118 cm
Exhibitions :
Chabaud, Fauve et Expressionniste, Musée Paul Valéry, Sète, 2012, n°94.
Chabaud, de la terre à la mer, Centre d'Art Sébastien, Saint-Cyr-sur-Mer, 29 juin - 14 septembre 2014.
Auguste Chabaud, L'instinct de vie, Galerie Alexis Pentcheff, Marseille, illustrated on exhibition catalogue n°5 p.13.
From 1909 onwards, the sea served as the backdrop for a series of compositions. The female figure, naked, is treated through the theme of bathers. Often stylized and very discreetly suggested, the flow embodies fertility as Chabaud expresses it in one of his poems:
"O Woman, fine sand of the shore I love,
Seeing your clear beauty under the blue sky,
I felt moved to the limits of myself
The ebb and flow of my stormy heart.
O Woman on the horizon, bewitching image,
My roughness at your sight yields it to the tender emotion,
Your body is smooth and white like a beautiful beach
And I am the flood that comes to die towards you."
Despite the presence of the figures, there is a feeling of isolation and a deep archaism in this type of composition. These female figures, monumental, primitive, seem to spring from the waves on a raw land, a remote island forgotten by civilization.
Like mythological mermaids, they seem to be waiting for Ulysses and his companions, Jason and the Argonauts, to land on their shore.
As a young man, Chabaud had discovered the dreamlike power of the sea, charged with the legends of so many centuries, the hopes and fears of so many peoples.
Until then, his only horizon had been his boat: the maritime enchantment was all the more intense. He will keep very vivid impressions of these crossings, of the distant lands he saw and his work will long echo the reminiscences of this youthful journey.
Chabaud's art, so close to life, borrows its perpetual pendulum movement, between gravity and lightness, reflection and dynamism, permanence and immediacy.
The sea is thus, in monochrome and monumental compositions, the immutable creative force giving birth to Venus and at the same time the small summer corner of warm sand that Chabaud sometimes likes to represent.