<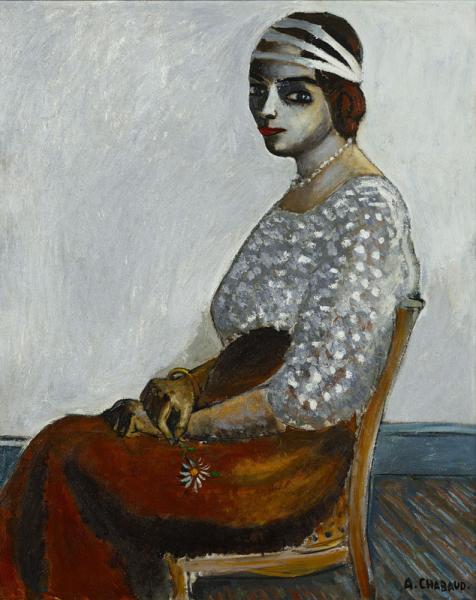 La femme aux trois rubans (Martita), vers 1912
Oil on canvas, stamped lower right.
100 x 81 cm
History :
Collection Josef Müller, Soleure
Collection JG
Exhibitions :
Salon d'Automne, Paris, 1913
Auguste Chabaud, Musée d'art Moderne de Troyes, 30 juin - 18 septembre 1989, illustrated on exhibition catalogue n°71.
Musée de Région Auguste Chabaud, Graveson, en prêt à la collection permanente, 2013-2014.

Bibliography :
Raymond Charmet, Auguste Chabaud, La Bibliothèque des Arts, Paris, 1973, illustrated on n°63 p. 157.
Chabaud, Fauve et Expressionniste, musée Paul Valéry, Sète, 15 juin-28 octobre 2012, illustrated on p. 190.

"The presence of Martita, also known as "the woman with three ribbons", a monumental work from a large Swiss collection, cannot leave anyone indifferent.
The story tells us of a passionate but fleeting love between Auguste and the young girl from a good family, during his years in Paris, around 1910.
The beautiful girl with her fiery eyes, soft and shaded face, tinged with melancholy and subtle reflections, worthy of the palette of a Veronese, has the charisma and the bewitching beauty of the women known as "fatal". To praise her beauty, elegance and refinement today is to pay homage to the artist's beloved wife and to the painter himself, who, on an intimate day in his Parisian studio, sublimated with subtlety and passion, under the precise stroke of his brush, her Madonna face.
The "Mona Lisa" of Auguste, as I like to call her, dressed in a light speckled sweater, enhanced by a fragile pearl necklace, imprisons you with her gaze.
Excerpt from a text by Monique Laidi-Chabaud published in the exhibition catalog Auguste Chabaud, L'instinct de Vie, Galerie Alexis Pentcheff, Marseille, 2014.