<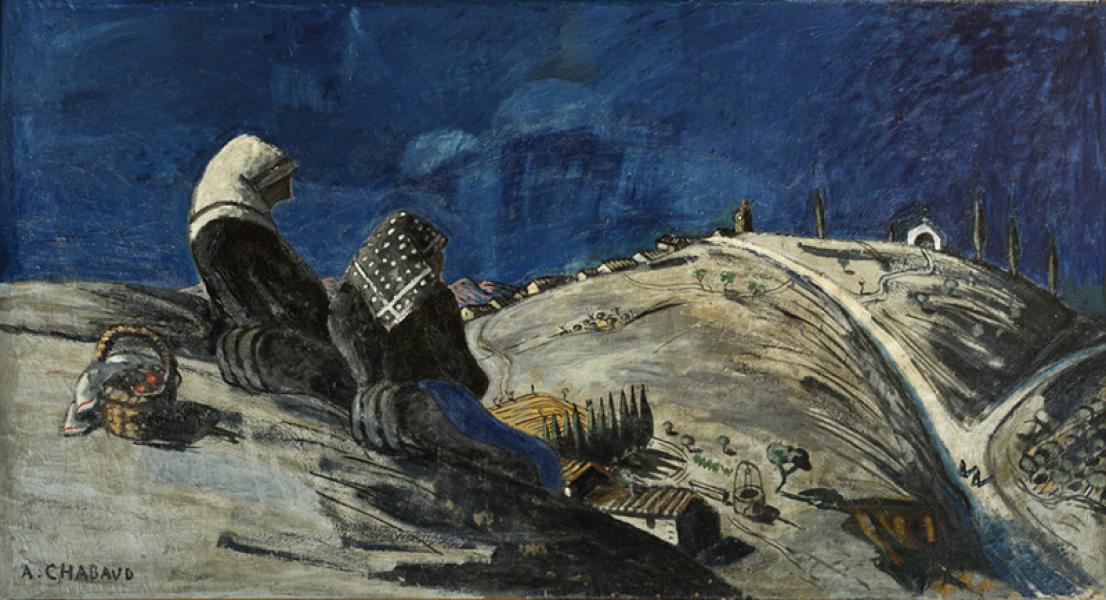 Femmes en méditation sur la colline, 1909-1925
Oil on canvas, signed lower left.
170 x 315 cm
Exhibitions :
Auguste Chabaud, Cercle artistique et littéraire, Paris, juin-juillet 1952, n°37.
Auguste Chabaud, 55 années de peinture, Galerie des Arts, Nîmes, 22 juillet - 14 septembre 1956, n°28.
Rétrospective Auguste Chabaud, Salon d'Automne, Paris, 1956.
Auguste Chabaud, Chapelle du Grand Couvent, Avignon, 20 juillet - 25 août 1972.
Centenaire Auguste Chabaud, Palais des Papes, Avignon, 28 septembre - 31 octobre 1982, n°19.
Auguste Chabaud, Musée des beaux-arts, Orléans, 12 juillet - 13 octobre 1986, illustrated on exhibition catalogue p.71 sous le n°60.
Auguste Chabaud, Saarland Museum Saarbrücken, puis Von der Heydt Museum Wuppertal et Städtische Galerie im Lenbachaus München, 1993, illustrated on exhibition catalogue p. 126-27, n°68.
Fémina, la femme sous le regard des artistes, Galerie Alexis Pentcheff, Marseille, 2014, reproduit au catalogue d'exposition sous le n°65 p.63.

Bibliography :
Raymond Charmet, Auguste Chabaud, La Bibliothèque des Arts, Paris, 1973, illustrated on p. 159, n°69.
Max Philippe Delavouët, Auguste Chabaud, Editions Cercle d'art, Paris, 1983, n°27.

Ce tableau est actuellement en prêt au Musée de Région Auguste Chabaud de Graveson.

The Provençales en méditation sur la colline (Provençal women in meditation on the hill) by Auguste Chabaud are imbued with a mystical dimension. These two silhouettes of peasant women, wearing a kerchief on their backs, are charged with an almost religious intensity, which is materialized by a very graphic strength. Atop a hill, they watch over a bare agricultural valley. In this rather harsh landscape, two silhouettes walk along a path. Higher up, another hill hosts a small chapel announced by cypresses, while on the other side of this promontory, a village has been established, on a slope that is certainly more favorable.
This immense composition draws its strength from the tension that is created between this very invasive foreground and the plunge towards the valley where everything seems, including the men, ridiculously small.
It also echoes a spirituality carried through the painting by the presence of graphic elements such as the row of cypress trees, the path or the chapel.
Finally, the coldness and sobriety of the palette accentuate the dramatic effect of the composition, which touches on universality in the ancestral power that these figures convey. Like the Fates of destiny, they remind us of the vanity of existence.