<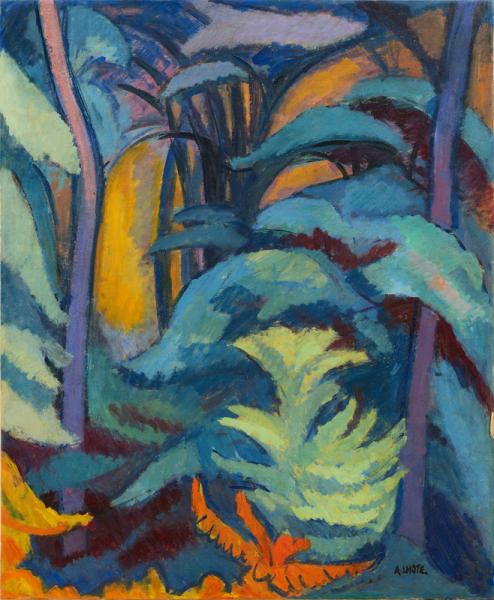 Sous-bois ou Pins en Provence, vers 1909
Oil on paper lined on canvas, stamped lower right.
73 x 60 cm
History :
Former Simone and André Lhote collection
Former Christophe Martin collection
Exhibition :
Galerie Victor Waddington, May-June 1971, reproduced in color, n°1 in the catalog (indicated as 1908).
Certificate established by Mrs Dominique Bermann-Martin, successor of the artist.
This painting by André Lhote, representing an undergrowth with circled and angular forms, in an expressionist vein, is dated around 1909.
The composition unfolds vertically in shades of blue, green, yellow-orange and violet, and this juxtaposition of complementary colors gives a great dynamism to the whole.
On the other hand, this work is painted on paper and then pasted on canvas, which may seem rather unusual but reveals a real ambition of the artist, described in his Traité du Paysage published in 1939 :
"I have spoken of painting on paper. One does not suspect the quantity of works, even of large dimensions, which were painted thus, during the ages. (...) Paper, when pasted on canvas or panel, with casein, offers an excellent support. Rouault never painted otherwise. The paint must be spread briskly in very thin layers diluted in refined mineral spirits, the oil burning the paper.
In the Gazette des Beaux-Arts of September 1933, M. Van den Bergh, painter and restorer, explains that the marvelous condition of Rubens' Virgin and Cherubs, in the Louvre, is due to the fact that it is painted on paper (the traces of marouflage are apparent in the corners of the painting). Van Dyck's Charles I is painted on six overlapping strips of paper...
This brief presentation would be incomplete if the question of the vehicle was not touched upon. The rectified and very fresh turpentine used by Cézanne seems to constitute a rather happy medium..."
Lhote goes on to discuss the different mediums that give the best results, showing that he had tested the specifics of painting on paper at length. His friend Georges Rouault was also an adept of this technique and the two artists regularly discussed this subject which was close to their hearts.
On the back of the stretcher, an inscription contemporary to the artist (probably made under his dictation), mentions the title of "Pines in Provence" which we wished to keep although it is likely that the undergrowth represented is not in Provence, hence the choice of a secondary title for this work.